VapeKing Deluxe Starter Kit
The VK Deluxe Kit is for those that want it all!
Upgraded to make use of the highest quality batteries on the market today!
If you want to dive right in and use the best equipment, this is the kit for you.
1300mah Genuine Aspire Batteries with Variable Voltage
Will suit vapers of all experience.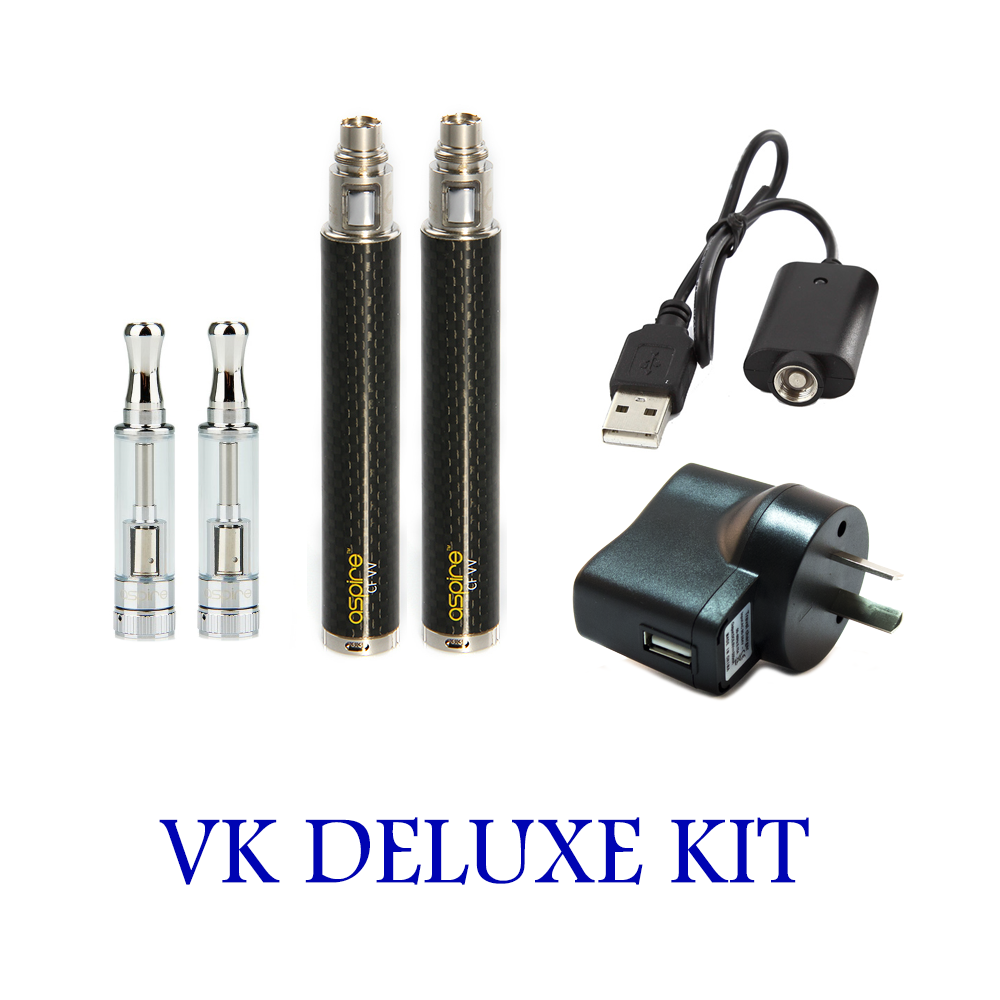 Each Kit Contains:
2 x 1300mah Aspire CF Variable Voltage EGO Batteries (Black)


2 x Aspire K1 Pyrex Clearomizers (BVC Coils Installed)

1 x EGO USB Charger

1 x AC USB Adapter

2 x 10ml VK Premium Eliquids ->

Choice of 2 Flavours from our range.

Available Flavours List

.
Downloadable Instruction Manual -> DOWNLOAD
Suitable Replacement Coils:
Batteries - 60 days
My first foray into vaping.

This is my first ever vaping experience and so far it has been a very good one. On the advice of a friend, I had a look around to see what starter kits are out there. He had told me to get 2 battery packs and clearomisers etc. Upon finding this deal, I jumped and got it. I couldn't be happier, took 5 minutes to understand everything and get going. Even my mate was completely surprised at the price and quality.
This kit is definitely worth the investment.

I don't normally right reviews but I've smoked for 15+ years and was over it so if you have found this web site for this reason obviously you are too. This is a great little easy kit and don't have to read into it like with the mods and accessories etc. I do buy nicotine liquids " because of addiction " and can guarantee after a week vaping the taste of darts will be filth and you won't think twice about buy cigarettes anymore. You won't be disappointed with this kit, don't over think it just buy it and do youself a favour, I would also recommend buying the nautilus/mini heads because they really are worth the $. Brian is great to deal with here aswell, you won't regret buying this....

First purchase and loving it

For those who are looking for a casual vape or even those trying to get off the cigs, this is THE starter kit to save for.
Easy to use (not hard to press a button a couple of times), safe (risk of it blowing up in your face is extremely low thanks to all the safety features) and is a bloody good buy for those starting out. Hell, it even came fully charged so you can use your two E-Liquids straight off the bat.
Very pleased with this purchase.

awesome kit to start with

bought this for my girlfriend as a low key starter vape and i must say im quite impressed.

looks and feels amazing. definitely worth the money, especially considering 2 vaporisers are in the box.

im surprised at the amount of vape produced aswell... a happily unexpected surprise!!!

My first e-cig and it's a good choice

Decided to splurge a bit more than a cheap set and decided on this very premium feeling and easy to use kit. Got an espresso and Virginia tobacco flavour with it and they were great. Battery last me quite a few days. Battery has adjustable voltage which I didn't know when I bought it which is great. The kit is a little bigger than I thought but I love it and it keeps me off the cigarettes.

When I was looking at getting started, I was interested in the Deluxe kit, but it wasn't available! So I did some research and put together my own 'starter' kit. Now the kit is available and it seems that I ended up putting together pretty much the same kit, same batteries etc although I put K1's on them.

Bottom line is I am very happy with the service, the product, and the fact that I am now off cigarettes. I tried an anologue when I found a pack I hadn't opened and it tasted foul...I destroyed the rest of the pack ;p



Quick delivery and amazed by the high quality of the device. Very easy to use. Great flavours to!
Super happy

Was considering buying an el-cheapo vaporizer to see if vaping was satisfying enough to get me off the rollies.

So glad I splurged a little more on this top quality kit. Couldn't be happier! Not missing the rollies at all and neither are my family who hate the stench of burning tobacco.

Can't fault the K1 ... airflow seems perfect and it's easy to fill. The batteries have adjustable voltage and last me all day.

Awesome piece of kit!

Just received the product earlier this week and it works relatively well, better than expected (first ecig). Very easy to use, maybe check up youtube on some guides regarding filling up the tanks and priming/changing coils.

You will still need a few other items apart from the kit, such as spare coils for your clearomizer, and e-liquid. Note, that the free sampler liquids come as doublers which are made to be mixed with either nicotine or more PG/VG. They can still be vaped the way they are, but flavors will be much stronger.

That being said, I found the Strawberry sampler really nice as a doubler to be vaped right off the bat.

Nice little kit to get you started to get a feel of things, but before long, you'll find yourself looking for upgrades :)